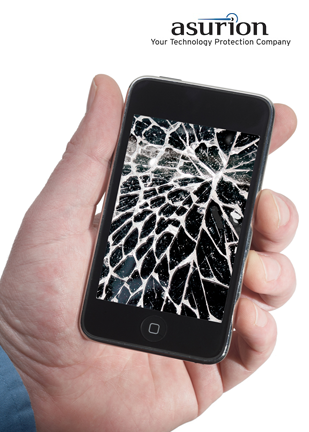 Content and/or other value provided by our partner, Asurion.
For a lot of us, our smartphones are crucial in our lives. So much valuable information is in that little device, including connections to work, family, friends, photos and so much more. Losing them can create a lot of headaches. I remember one time when I couldn't find my phone. I retraced my steps for hours. I tried virtually everything, only to find it had slipped through the seat of my friend's car and was on the floor in the back. Huge sigh of relief.
Even worse than that was when I've dropped my phone and it has gotten cracked or the day it went through the washing machine while in the inside pocket of my hoodie! Needless to say that was a completely lost cause.
1 in 4 people will lose, damage or have their phone stolen this year. My iPhone is like a mini-computer to me. Without protection, I'd be a lot more worried.
And what about your kids' smartphones?


Protection Tips
Asurion offers these easy summer tips to help minimize the damage to children's phones this summer:
• A good case or silicone protector can help protect the back and sides against scratches and provide some impact protection.
• A transparent film screen protector can prevent the screen from scratching and can also help remove glare.
• A growing number of waterproof cases are on the market designed to protect phones when submerged in water for a limited amount of time.
• Purchase cell phone insurance to protect your investment and stay connected with children. Many wireless carriers now offer Asurion's downloadable application that can remotely locate, lock or wipe a phone, along with the insurance coverage.
It's great to know that the complete Asurion protection package, available through most wireless companies, empowers you with the apps and services that put you in control – everything you need for total peace of mind so you can enjoy using your smartphone. You can feel safe knowing you're protected with Asurion, whether you need technology to secure your data privacy against growing mobile threats, need a device expert who's just a call or click away, or coverage to replace your phone as quickly as the next day.
Have you had a mobile mishap or know someone who did? We'd love to hear about it. One person who shares their story will win a $40 Amazon or $40 iTunes card (your choice!)
Share your mobile mishap and enter to win by using the Rafflecopter below.