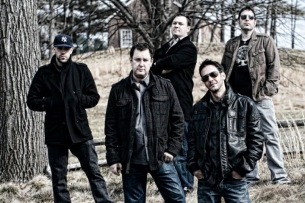 I have a great affinity for musicians. The ability to lose yourself in music is truly a wonderful gift, just as one can lose themselves in art or writing. When I was younger, I played piano, some guitar and wrote songs. I never took it farther than that as my focus shifted more to art and poetry, however, I always loved to go to small clubs to see where the true musicians hung out and played.
Today, in the days of auto-tune, there is not as much genuine musicianship, so I am always impressed when I do find it as I have with Empire Road.
I've been listening to this NY-based Rock band, and I would classify it as a bit classic rock, a bit indie, a bit alternative, and definitely enjoyable. It feels familiar and comfortable like my favorite pair of faded jeans, with a bit of Green Day meets the Beatles.
Empire Road has always evaded the easy classification, preferring instead to take their own path. Their newest E.P. "Empire Road" expands upon their sound and vision with gorgeous guitar solos and beautiful harmonies. It's accessible while maintaining a healthy individuality.
"I think it's a huge step in the right direction," drummer Nick Tortora agrees. "It's an innovative and radio friendly E.P."
"One of the things we wanted to do was capture a live energy into our recordings," says Tortora. "We all feel like our live show is where you get to see us rock out."
And, this E.P. does have a live feel, as though you were in that club, bopping to the beat.
If you're in the New York area, you can catch them live for the:
Empire Road (CD Release)
featuring
Native Alien Tribe
Friday, May 11, 2012 7:00 PM EDT (6:30 PM Doors) at the
Vibe Lounge, Rockville Centre, NY
tix here
or at Portfest, in Port Washington, NY May 19
If you're not in the area, and want to check them out, they've offered my readers a listen right here:
Hollywood Sober is my favorite on the E.P. – There is melancholy mixed with a sense of hopefulness.
Some more to check out by Empire Road off the new E.P.
I received one or more of the products mentioned above for free using Tomoson.com. Regardless, I only recommend products or services I use personally and believe will be good for my readers.